Newsletters & Reports
(This & Previous Newsletters in original formatting and graphics appear at the bottom of the page)
ST PETER'S CHURCH (with St Joseph's, Hurst Green)
Stonyhurst College – Stonyhurst – Clitheroe – Lancs – BB7 9PZ.
Parish Priest:   Fr Tim Curtis, SJ Safeguarding Officer:     Niall Macfarlane (07786 432360
                          Salford Roman Catholic Diocese Trustees Registered Charity No 2500374                         
                                                                    
28th November 2021                      THE NEWSLETTER                       First Sunday of Advent (Year C)
                                                                    
Mass Schedule for this week
| | | | |
| --- | --- | --- | --- |
| Date | Time | Mass Intentions | Feast |
| Sa         27th | 5.30pm     St P's | Trevor James Hemmings CVO  L | Vigil of the First Sunday of Advent |
| Su         28th | 9.30am     St J's | For the Parish | First Sunday of Advent |
| | 11.00am   St P's | For the College | |
| M         29th | No Mass | | Weekday in Advent (Week 1)  |
| T          30th    | 8.00am     St P's | Agnes Eccles A | St Andrew, Apostle |
| W    1st Dec | 8.00am     St P's | Emma Purtil B | St Edmund Campion and Companions |
| Th        2nd | 9.15am     St P's | For the school (Campion Day cel) | Weekday in Advent |
| F           3rd   | 8.00am     St P's | Private Intention | St Francis Xavier |
                         (Each Saturday there is a Holy Hour from 4.30pm with Benediction at 5.15pm) 
L = Lately Dead, A = Anniversary of Death, R = Remembrance          M = Martyr, V = Virgin, B = Bishop, Pp = Pope
P = Personal Intention, S = Sick, B = Birthday   F = Founders Mass             D = Doctor, P = Priest, R = Religious
Please pray for the following, the anniversary of whose deaths occur at this time:  Eliza Brown, Fr Ronald Hull SJ, Fr Edmund Willoughby SJ, Margaret Wilson, Brian Holden, Helen Wells, George Greasley, Roger Marsden and Mary Whittaker.  At each Mass during November we pray for those whose names are inscribed in the book of remembrance.   May they rest in the peace of the Lord.
Readings at Mass
| | | |
| --- | --- | --- |
| | 1st Sunday of Advent (Yr C) | 2nd Sunday of Advent |
| First | Jer 33; 14 – 16 | Baruch 5; 1 – 9 |
| Second | I Thess  3; 12  -  4,2 | Phil 1; 3-6, 8-11 |
| Gospel | Luke 21; 25 - 28, 34 - 36 | Luke 3; 1 - 6 |
Diocesan Website:
  http://www.dioceseofsalford.org.uk
for information on our Diocese and what is happening.
Praying with the Pope in December 2021
We pray for Catechists, called to announce the word of God and to bear witness with courage and creativity in the power of the Holy Spirit.
Look at www.ThePopeVideo.org for more information
Stay awake, praying at all times for the strength to survive all that is going to happen, and to stand with confidence before the Son of Man.
We are learning to live with Covid, but it is still wise to be cautious.
We recommend that you still sanitise on your way into church, that you wear a mask and that you keep social distance.   Some people are vulnerable, so please respect their space.
For the time being we shall be keeping the doors open during Mass for ventilation – bring a coat!
Singing in church is going well!
Usual Mass times are as follows:
   Saturday   
4.30pm     Church opens (with exposition)
5.15pm     Benediction
5.30pm     Mass in St Peter's
   Sunday       
       9.00am     Church opens
       9.30am     Mass in St Joseph's
11.00am   Mass in St Peter's           
Confessions will be available during Holy Hour.
Confessions
Will be available during holy hour, but, where possible, to be celebrated outdoors.
This Sunday
Is the first Sunday of Advent.   The gospel from Luke has Jesus telling us how we can prepare for the coming of the Son of Mass.   At Mass we will light the first Advent Candle.
Benediction next Saturday
As there have been no cases of covid amongst the students for more than two weeks, they will return to Benediction on Saturday evening.
The 9.30am Mass
Will be in St Joseph's.   It was busy last Sunday, but we still managed to safely socially distance.
The 11am Sunday Mass
The College and SMH boarders will attend this Mass.   Parishioners may come, but bear in mind it will be quite busy.
Pastoral Letter from Bishop Arnold
Please take a copy from the back of the church.   In his letter he emphasizes that we still need to be cautious in coming to Sunday Mass if we are still vulnerable.   He also explains a little about how we can all participate in the Universal Synod which Pope Francis has called.
New Liturgical year
Today we begin a new liturgical year.   "Year C" is dedicated to the gospel of St Luke.   The four Sundays before Christmas help us to prepare to celebrate the coming of our savior.
Feast of St Edmund Campion
Wednesday is the feast of St Edmund Campion SJ, patron of the British Jesuits and of the College.
Next Sunday
Is the 2nd Sunday of Advent.   In the gospel, Luke describes how John the Baptist begins his mission to prepare people for the coming of the saviour.
Cemetery Statue Appeal
The figure on the crucifix in the cemetery has sadly disintegrated because of the weather.   It has been decided that this will be replaced by a weatherproof statue of the risen Christ.   Envelopes are available for anyone who would like to contribute to the purchase of this new statue.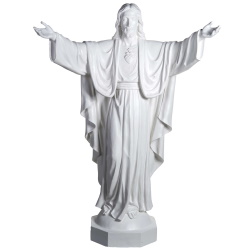 Red Missio Boxes
If you have one of these at home, please drop it of at Lucy Harrison's house (2 Avenue Road) or bring it to church with you.    We need to send in a cheque for the total amount before the end of the year.
Food bank appeal
Christmas Donations for the foodbank need to be made by 11th December.   Long life food and toiletries welcome.   No clothes.   Thank you!
Publications at the back of the church
Available at the back of the church:  New: Jesuits and Friends, Messenger Magazine, Day by Day and Walk with Me.   Help yourself.
Repository shop
Hopes to reopen soon.   Items for Christmas remain on the table near the Our Lady Statue.
Lunch hosted by St Joseph's
St Joseph's Primary are organising a fundraising lunch in the Village Hall on Wednesday 8th December at 12noon, followed by entertainment.   To book a place call David Jacques on 01254 803141 or 07838 423974.   Funds for Haiti earthquake appeal.
Archived Church newsletters (PDF format)